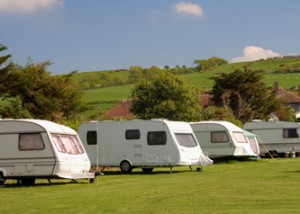 Across the UK, the concept of 'staycations' is rapidly gaining popularity. Brits are gradually beginning to realise that their back garden is brimming with incredible destinations that are quite literally on their doorsteps. For those that want all the creature comforts of home yet still want to enjoy the flexibility of moving from place to place, caravanning is a fantastic option. If you're considering taking the plunge and investing in a set of wheels read on for our beginners guide to caravanning, covering everything you need to know about planning the perfect trip.
Look for a second hand deal
Caravans certainly don't come cheap and when purchasing one it's better to think of it as a holiday investment as opposed to a single lump sum. If you've got your heart set on caravanning but don't have the cash to purchase a brand new vehicle consider opting for a second hand set of wheels.
Consider creature comforts
Caravans come in all shapes and sizes, and it's important to think about what you actually need. For example, are you in search of a fully equipped mobile home complete with toilet, shower, kitchen, TV and dining table? Or would you be happy with something simpler that featured little more than a bed, a stove and a chair or two?
Family friendly or off the beaten track
Everyone has a different travelling style and caravans are great as they cater to all tastes. Before setting off on your first adventure think about what sort of experience you'd like to have. If you're in search of family friendly fun, activities galore and access to home comforts such as electricity, hot water and Wi-Fi heading to purpose built caravan parks is a good bet. On the other hand, those in search of peace, tranquility and an off the grid experience should plot routes that pass through more remote and far flung areas.
Be prepared
Safety should always come first which means all caravanners should equip themselves with first aid kits, emergency batteries, spare tyres, fire extinguishers and so on.
Take out insurance
Whether you opt for a luxurious full size caravan or a slightly more modest version, taking out insurance is an absolute must. Sure, a caravan may offer you the ultimate in holiday freedom however if you're forced to fork out cash for accidents, breakdowns or theft this sense of liberty will soon turn into a nightmare.