Get Quote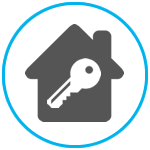 Landlord Insurance Comparison
Landlords Insurance is similar in many respects to home owner's building or property insurance. It is designed specifically for a landlord's rental property, both residential and commercial. At its most basic landlords insurance provides protection for landlords against the costs of property repairs or reconstruction as a result of disasters such, fire or flood. The basic Landlord Insurance policy provides valuable disaster insurance, should the worst happen to a property, and is often a requirement for obtaining a mortgage or other finance secured on the property. As a minimum level of protection, Landlords Insurance should be for the rebuild cost of the property.
Landlords insurance also provide landlords with liability cover should a third party injure themselves at the property and hold the landlord responsible for injuries or damages incurred. Finding the right Landlord Insurance is important in the buy to let market and can give you piece of mind knowing that your property is protected.
Landlord Contents Insurance
Our Landlords Contents Insurance covers all major liabilities such as fire or floods. In addition to Landlord insurance, you still need to insure the contents of your rental property just in case the building floods for example. With our landlord contents insurance, you can be rest assured that your possessions will be protected against the risk of damage.
Compare Landlords Insurance
The value of landlord insurance to landlords cannot be underestimated, but at what cost? The landlord insurance market is one of the most competitive insurance markets in the UK. This competition means that lots of insurers are offering landlords a whole range of feature packed landlord insurance policies to compare. The professional landlord has a duty to themselves to compare landlords insurance quotes and other overheads as time allows them too, in order to maintain profitability. Fortunately today even the busiest landlord can compare landlord insurance quickly at any time of day using online comparison sites. By comparing landlord insurance online, landlords can find the best policy and also find a cheap insurance quote.
Compare Landlord insurance today! – The ultimate back stop for landlords, facing property disaster or legal worries.
Unoccupied Property
Our Unoccupied Property insurance policies cover all types of properties and even those under renovation. If your property was to fall vacant whist the building or home is waiting to be rented, we can offer cover during this time.
Student Landlord Insurance
If you are renting your home or property to students, then we can find you the best student landlord insurance. Having this insurance will protect you financially if your building is damaged or if someone experiences some sort of injury at the property.
Click on 'Get quote' for a competitive online quote and find the best landlord insurance policy.
Landlord Insurance FAQs
Why do I need Landlord Insurance?
Landlord Insurance is essential for Landlords to protect their property and property owners liability.
What type of properties can be insured?
Offered are a range of policies for all types of commercial, residential or mixed use properties.
Does Landlord Insurance differ from Home Insurance?
Yes – Landlord Insurance is similar to home or property insurance however, standard Home Insurance is not designed to cover rental properties. Landlord Insurance provides protection for Landlords against the cost of property repairs or reconstruction.
Do I need to take out Contents Insurance?
As a Landlord, it is up to you to take out Contents Insurance to insure your property if it is furnished.
What happens if my property becomes unoccupied?
Unoccupied Property Insurance is offered if your property was to fall vacant whilst it is waiting to be rented.
Can I get a quote online?
Yes – We compare leading insurers to get you the best competitive online quotes.
Can I pay by instalments?
Yes – There are flexible monthly payment options.
Get Quote